Selle SMP Full Carbon Lite Bicycle Saddle -Carbon Rails- Black. . .Made in Italy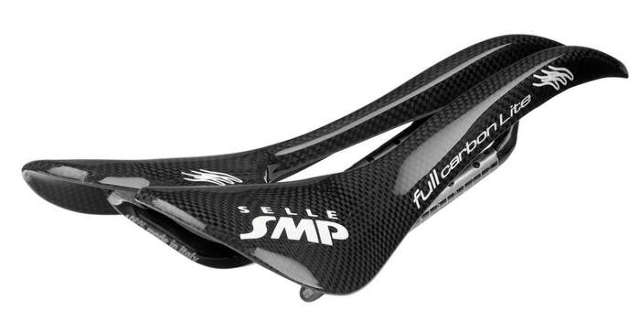 Selle SMP Full Carbon Lite Bicycle Saddle -Carbon Rails- Black. . .Made in Italy
IMAGINE A bike saddle built with the extreme cyclist in mind at an affordable price!
Selle SMP
Full Carbon Lite Bike Saddle
Color: Black
SMP Full Carbon Lite Saddle, with its carbon structure and carbon fiber rails, is ideal for cyclists looking for comfort with minimum weight. It's a little wider than the SMP Carbon saddle. The patented features by Selle SMP, such as the completely free central channel, the original eagle-beak nose and the raised rear give these models an aerodynamic advantage. Suited for the fit cyclist with a medium to large pelvic structure.
The central channel of the saddle varies in width (2-4 cm) to contour the body and allow continuous circulation of blood flow.
The front section of the saddle with its beak-shaped design offers excellent support when pedaling hard.
The design of the outer mid-section is shaped to follow your thigh muscles to maximize blood circulation and pedaling power.
273 mm in length and 135 mm in width, the overall weight of the rider is distributed throughout the saddle to offer comfort without sacrificing performance.
Made in Italy.
Weight: 119 grams
Dimension: 273 mm x 135 mm
Padding: None
Body: Carbon Fiber
Frame: Carbon Fiber
Recommended: for Road and MTB